ew study reveals toxic levels of glyphosate in dairy cows
A new study published in the Journal of Environmental & Analytical Toxicology reveals that the active ingredient of Monsanto's best selling herbicide 'Roundup' is found in all the dairy cows that were used for the test.
Dr. Monika Kruger and her colleagues investigated the excretion of glyphosate in the urine of 30 cows from 8 different Danish farms. The investigative team looked at blood serum parameters indicative of cytotoxicity as alkaline phosphatase (AP), glutamate dehydrogenase (GLDH), glutamate oxaloacetate transaminase (GOT), creatinine kinase CK), nephrotoxicity, (urea, creatine) and cholesterol in each of the urine samples. They also looked at trace minerals such as manganese (Mn), cobalt (Co), selenium (Se), copper (Cu) and zinc (Zn).
The results concluded that different levels of glyphosate were excreted in the urine of all cows and glyphosate had a significant impact on blood parameters of cows. In fact, the researchers found that increased levels of GLDH, GOT and CK in cows could possibly show the effect of glyphosate on liver and muscle cells. They also discovered that high urea levels in some farms could be due to nephrotoxicity of glyphosate.
In conclusion the researchers discovered that "correlations between glyphosate and some of the measured blood serum parameters to CK (R= 0.135), Se (R=-0.188), Co (R= -0,403) and Zn (R=0,175) demonstrate that glyphosate is toxic to the normal metabolism of dairy cows."
Keep in mind that glyphostae in Monsanto's Roundup have been linked to many chronic diseases including cancer, birth defects and infertility. Click here to find out why Monsanto's Roundup is more toxic than what the majority believe.
Milk is anything but 'wholesome', despite all the claims by the main stream media and big dairy industry:
According to many scientific research and studies, increase in consumption of red meat and dairy products can increase risk of chronic diseases such as cardiovascular disease and different kinds of cancer. Click here to find out a diet high in red meat, eggs and dairy products can increase the risk of different cancers.
So what's the best replacement for milk and dairy products?
Dairy-free organic coconut milk or organic almond milk (from real food sources, not synthetic ones that have artificial sweeteners and additives) are good replacement for milk. Keep in mind that even raw milk or goat milk can become contaminated in a number of ways, especially in large commercial farms that put profit before safety. Therefore, it's safer to buy raw milk or goat milk from small local farmers that are highly conscious since their entire families drink the milk they produce.
Can lack of milk or dairy products cause osteoporosis and ratio of calcium to magnesium:
Many people might still believe that dairy products are necessary for healthy bones. However, the recent studies suggest that the ratio of calcium to magnesium is an important factor to health and vitality including healthy bones. As a matter of fact, 60% of the magnesium in your body is stored in bones and magnesium plays an important role in absorption of calcium and vitamins. But, 80% of Americans have magnesium deficiency and most Americans have very high ratio of calcium to magnesium (more like 6 to 1).
Many studies have concluded that the problem Western diet is high calcium intake (especially for women who are going through menopause and are at high risk of osteoporosis) without sufficient amount of magnesium.
The recommended dietary ratio of calcium to magnesium happens to be 2 to 1, however, the current research suggests that the ratio of calcium to magnesium should be more like 1 to 1.
In fact, studies show that high dietary intake of calcium and lack of Magnesium and vitamin D can increase in rate of cardiovascular diseases and strokes.
You can get your natural calcium and magnesium from food sources such as seeds, nuts, carrots, cauliflower, raw cacao beans, cabbage, broccoli and real herbal extracts (Plant based calcium with magnesium).
- See more at: http://www.seattleorganicrestaurants.com/vegan-whole-food/chemicals-antibiotics-in-milk-glyphosate-toxic-to-dairy-cows.php#sthash.OOa2RcW8.dpuf
We combine age-old farming methods with modern scientific techniques to grow food that is healthy, nutritious and pesticide free. Water, although a renewable resource, is a scarce resource, particularly in a dry country like ours. The organic methods we use increase the amount of humus in the soil. This holds water much more efficiently, and cover crops reduce evaporation. As a result, we use 20% less water than conventional orchards. Our clean and complex environment has rewarded us with a great increase in the number of birds that make our farm their home.
Light at the end of the supply chain
Keith is a pioneer in organic citrus farming in South Africa, with a wealth of knowledge and an open door to anyone willing to learn. He welcomes any farmers who want to make the switch to talk to him, learn from him and reap the wisdom of his labours.
Lemons
Lemons are a powerful healing fruit that contain phenomenal antibiotic, antiseptic, and anti-cancer properties. Lemons are rich in vitamins C and B-complex and minerals such as iron, calcium, magnesium, silicon, copper, and potassium. They are considered to be a wonderful tonic and can help to cleanse and detoxify the entire body.
Although lemons have an acidic taste they actually have a very strong alkaline reaction on the body and can help to alkalize blood, cells, lymph, organs, and tissues. Lemons are known to help destroy putrefactive bacteria in the mouth and intestines which can help alleviate flatulence, indigestion, and constipation. Lemons contain a compound called limonene which is used to dissolve gallstones and kidney stones and can help to fight oral, lung, skin, breast, stomach, and colon cancer.
Lemons are also rich in bioflavonoids which can significantly boost the immune system and reduce inflammation in the body. Lemon juice is known to be particularly beneficial for colds, coughs, sore throats, hiccups, ear infections, fevers, arthritis, heart disease, COPD, atherosclerosis, diabetes, high cholesterol, autoimmune disorders, stroke, and cancer. Topically, lemon juice is a great remedy for wrinkles, warts, toothaches, corns, sunburns, poison ivy, acne, psoriasis, and as a hair rinse and facial astringent.
A tall glass of lemon water upon waking is an excellent way to hydrate and cleanse the body first thing in the morning. Fresh lemon in tea and green juice and added to salads, wraps, hummus, guacamole, and nori rolls is another great way to add this healing and nutritious fruit into your diet.
Making organic fruit farming work
Organic farming is risky and difficult, but Jannie Nieuwoudt of Jamaka Organic Farm in the Cederberg believes the risk is justified by the rewards.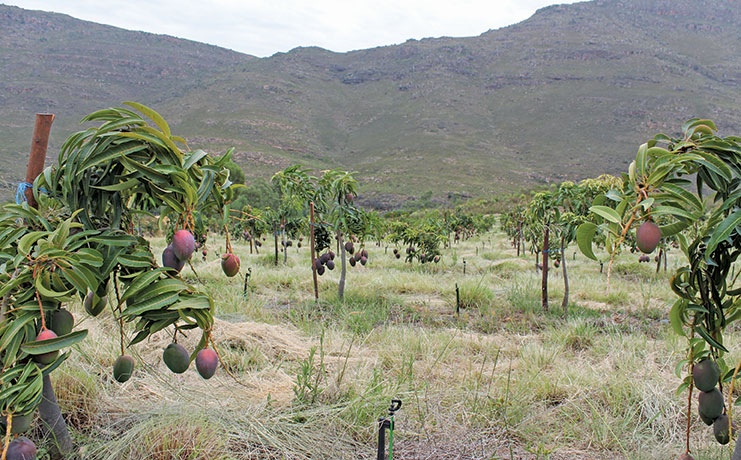 Jamaka is organically certified through SGS. Jannie says that certification helps regulate the industry. Photo: Denene Erasmus
It is not so much the rat-tat-tat of the dirt road that slows the driver down, but rather the Cederberg's unique version of a traffic cop.
The tortoises that cross the road every hundred metres or so force travellers to slow down and enjoy the scenery along this meandering road through the Cederberg mountains, It is here that Jamaka Organic Farming's Jannie Nieuwoudt farms land that his forefathers first acquired in 1755.
"My father, Gert, a school teacher, started by planting a few citrus trees here in the valley. When I was a child we came here every weekend," he says.
Apart from the citrus, Jannie's father experimented with different types of fruit and various varieties, searching for something that would thrive in the unique growing conditions of the valley.
Between mountains, the farm enjoys a more temperate climate than that of neighbouring farms in Citrusdal and Clanwilliam. Water is supplied by mountain springs and by the Rondegat River that runs like an artery through the valley. The average annual rainfall is about 600mm per year.
Jannie Nieuwoudt farms organic mangoes and citrus on land that has been in his family for 258 years.
As Jannie's father discovered in the early 1980s, the environment turned out to be perfect for growing citrus, the major crop in the Citrusdal area, and for late-season mangoes.
When Jannie took over the farm in 1995, there were about 3 000 citrus trees and 200 mango trees. Wild rooibos tea was harvested from the surrounding mountain slopes. Jannie's initial orchard expansion was destroyed by a veld fire in 2009.
Orchards are still being replanted and the farm now has about 5 000 mango trees and close to 5 000 citrus trees, with 1 000 new mango trees being planted.
"When we replanted citrus, we focused on varieties for a niche market. We have mainly soft citrus like naartjies and tangerines (Kaapse Rooiskil) and late Valencia varieties which we harvest in November and December," he explains.
Jamaka's mango harvest starts in mid-March when harvesting is over for growers in other parts of the country. "We carry on harvesting through winter until September," he says.
Organic roots
During the 1990s, Jannie, an avid reader, became interested in what he learned about the potential damage conventional farming could do to the environment.
"I got the idea that our conventional farming methods were harming the environment in which we farmed and decided there had to be a better way," he says.
The more he read about organic farming methods, the more convinced he became that this type of farming represented a better option for sustainable agriculture. In 1999, he decided to convert to organic farming.
Jannie says that initially it was not easy. In the first few years yields dropped noticeably as a new balance was established.
Slowly, however, the natural insect predators returned and, according to Jannie, the results have been inspiring.
"While farmers in Citrusdal and even some of my closest neighbours struggle to keep insect pests like fruit fly, coddling moth and scale under control with frequent chemical interventions, I can sit back and let nature take care of itself," he says.
Jannie admits that in an organic farming system, it is difficult to guarantee big yields year after year. "Tree manipulations to control yield are minimal.This means that yield varies greatly from one year to the next."
The importance of compost
Soil health is prioritised to maintain fruit quality.The cornerstone of Jannie's organic fertiliser programme is the compost produced on farm.
"We have about 150 sheep here, and their manure mixed with plant rests from the fruit orchards, are the primary ingredients for our compost," he explains.
Jannie and his team make about 50t to 80t of compost a year using an inoculant to help speed up the decomposition process. When the compost is ready, it is mixed with lime, gypsum and natural phosphates before application in the orchards.
Jannie does not have exact measurements for the quantities used to make the compost/fertiliser mix; he follows the recommendations given based on regular soil sample analysis.
He applies a 5l measure of the dry compost to every tree, twice a year – once during winter and again after harvesting.
Every orchard has a fully automated micro-irrigation system. "Having a proper, automatically controlled system that allows effective irrigation scheduling has been one of the best investments I've ever made as a farmer.
We only really irrigate for six months of the year during summer and spring. Irrigation scheduling is applied according to readings made by moisture probes. The farm uses about 288 000m3 of water a year," explains Jannie.
He says that the greatest struggle on an organic farm is keeping the weeds under control. "There aren't many organic weed control sprays available, so much of the weeding is done manually. We have to slash weeds five to eight times a year."
In the new orchards, his team puts mulch/weed netting or plastic sheets on the ground to suppress weed growth, especially around young trees. This is proving to be highly effective, but it is costly.
Diversifiying to spread risk
"It can take up to four years to convert from a conventional to an organic farming system and, as I mentioned, you can suffer crop losses in those years. This means conversion on a big scale is very risky and you have to manage the process carefully and prepare for losses," says Jannie.
His advice to any farmer considering 'going organic' is to visit a farmer who farms the same product on a similar scale."Make sure you know exactly what you're letting yourself in for before your start converting your farm," he says.
Jannie's second piece of advice is to diversify.
"Diversification is very important in organic farming because it provides insurance in the higher risk system. If the mangoes are having an off-year, there's the citrus, and if the citrus and the mangoes give us low yields, we can still rely on some income from the wild rooibos."
The business has more recently diversified beyond farming: Jamaka has become a well-known tourist destination with popular riverside campsites. This provides another income stream for the enterprise.
"I can understand that the lengthy, risky and expensive conversion period discourages many farmers from attempting organic farming," says Jannie.
"It would be much easier to take the leap if there was some kind of support offered by the government, but farmers aren't even getting proper support for disaster relief, so don't hold your breath."
Email Jannie Nieuwoudt atThis email address is being protected from spambots. You need JavaScript enabled to view it..